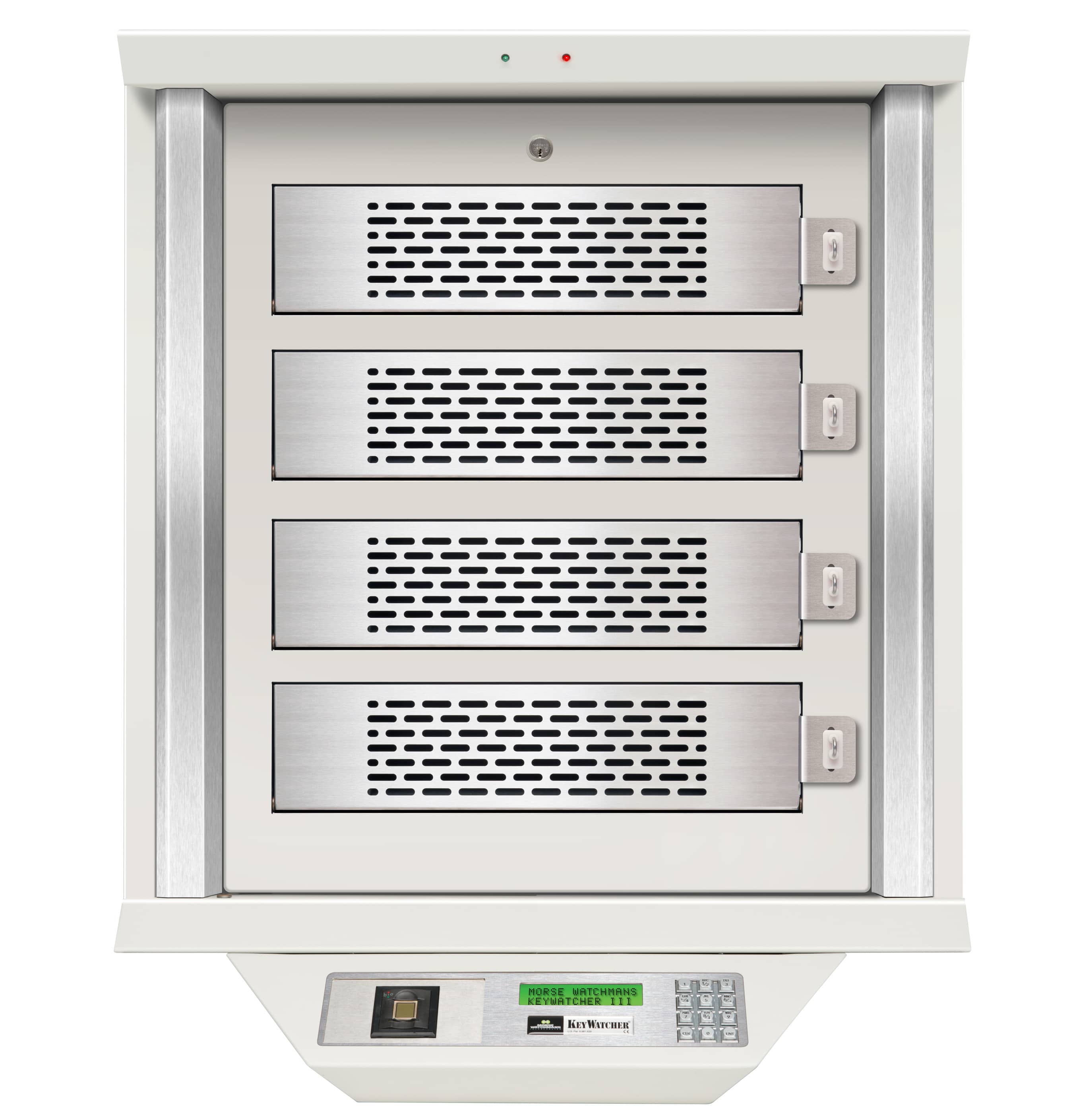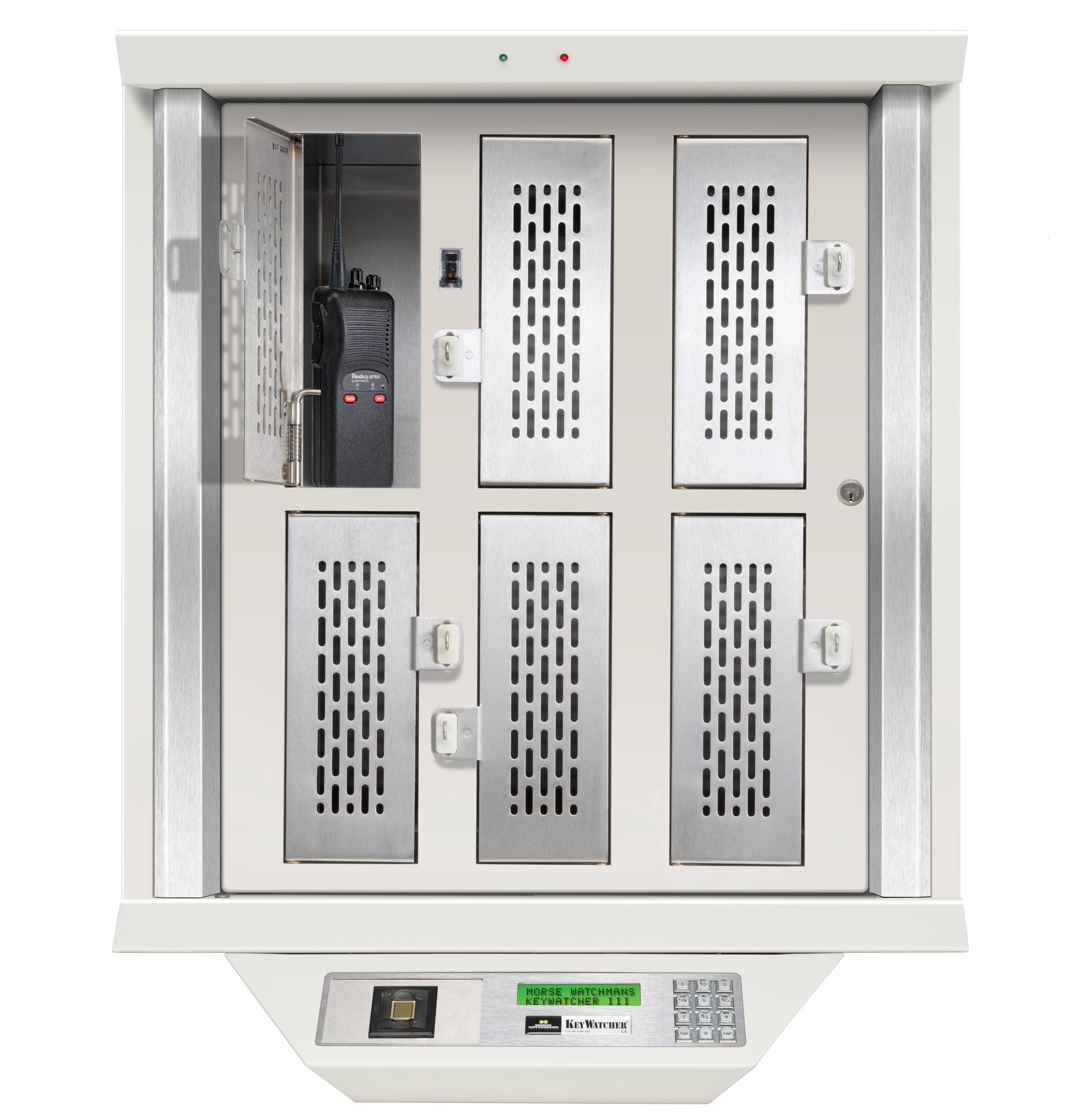 SmartKey Locker Illuminated
–  Keep larger objects secure –
SmartKey Locker systems are the ideal solution for securing, controlling and tracking larger objects.
SmartKey Lockers are ideal for:
Notebook PCs

Weapons

Cell phones

Cash Trays
PDA's

Hand-held radios

Data terminals

Personal items
Like all Morse Watchmans asset control solutions, SmartKey Locker Systems are engineered for complete interactivity with your other business systems. By opening our protocols to a wide range of integration partners, Morse Watchmans makes it possible for you to implement connectivity across systems on any level you choose. For example, by integrating your SmartKey Locker system with your access control system, your access control system will know which users are in the facility and which are not. A user who has taken an object from a SmartKey Locker can be denied
egress from the facility until the object is returned – and selected management can be alerted automatically via email if an item has not been returned.
By designing SmartKey Locker systems with the ability to communicate across systems, Morse Watchmans helps our customers maintain best-in-breed security solutions without the need to overhaul or replace costly installations. SmartKey Locker systems have a built-in RS-232 communications
port for direct connectivity to printers or other devices, or networked connectivity via Ethernet.
It's easy to expand scalable SmartKey Locker systems as your needs grow. Start with a single cabinet, or configure your system with multiple cabinets. Designed with scalability in mind, each additional unit can be controlled by a single console and monitored by the advanced KeyPro software.
Modular, Scalable Design Lets You Customize Your KeyWatcher System
From a single key management system to multiple key control cabinets holding hundreds of keys, it's easy to expand KeyWatcher as your needs grow. Each additional unit can be controlled by a single console and monitored by the advanced KeyPro software.
The KeyWatcher key box cabinet can hold keys of almost any size, including Folger Adam keys. Plus, the systems are capable of incorporating additional lockers for valuable items. Available modules include 16-key, 8-key, 6-key, card, and a variety of locker sizes. These key modules can be customized in a wide range of cabinet sizes.
Key Control Data from SmartKeys
Keys are secured to a SmartKey which features an identification microchip and 1/8″ stainless steel locking ring for additional security and functionality. When a Morse Watchmans smart key is inserted into a KeyWatcher key slot, identification chip data is stored and then retrieved after a key is properly accessed. Users can only access microchip keys from the cabinets with a proper user code, as designated by their security managers.
SmartKeys are available in several different colors (black, brown, white, grey, red, yellow, blue, and green). This allows for keys to be organized by color, which can be useful when utilizing several KeyWatchers in a facility, or designating one group of keys from another within the system.
SmartKeys work great when used with our tamper proof key rings (KeyWatcher Touch users can also use SmartKeys with our SmartKey Reader system). Using KeyRings with replaceable hub technology allows for a SmartKey to securely hold larger rings of keys, or larger keys like Folger Adam keys.
SmartKeys help make KeyWatcher an easy-to-use key control system. The Random Key Return feature allows users to return keys to any open location in the cabinet and the system will remember the new location for that key. This avoids confusion or misplacement error – a real time saver and convenience to each user. There is also an option available for users who prefer keys to be returned to their original location.